How it took me 7 days (well about 6 months plus 7 days) to
make this ridiculous face accomplish something I wanted to do
Over the past six months I have become increasingly interested in wheat grass juice.  Every time I turned around it was coming up in one way or another.  Many of the references have been positive, touting the many health benefits, however, I also came across some of the negatives, most often that it just plain doesn't taste good.  Because I am continuing my healing from tick-borne illness (specifically Lyme and Anaplasmosis) and the extended antibiotic treatment of the illness,  I was especially intrigued by the health benefits.
When it came to the benefits, what I heard and read over and over again was that wheat grass juice is exceptionally nutrient dense, with as much nutritional value in an ounce as 2 and 1/2 pounds of fresh vegetables.  It is also known to be blood cleaning, healing, and an incredibly efficient way of delivering easily digested and easily assimilated nutrition to the body.  I am all for efficiency, so you would think that I would have just bought a shot of wheat grass at one of my local health/natural markets and given it a try, right?
Well, nope. That's not how it went.  I could never bring myself to do it. I kept waiting for the 'right' time.  I had read that wheat grass juice was best assimilated and most impactful on an empty stomach and that it was best not to eat for up to 30 minutes after having the shot.  Well, when I am at the market either my stomach isn't empty OR if it is, I would very much like to eat ASAP.  I was also pretty scared of drinking the shot and having it come immediately back up right there at the market, which isn't exactly the public image I'm going for.  (And I had read that it was best juiced immediately after cutting and best consumed immediately after juicing…)  Yes, my obsessive diligent research had gotten me into a bit of a paralysis.
To get myself unstuck, I might have suggested that I grab a buddy, head out to the market and just get it done.  I chose a different strategy – the "7 day wheat grass plan".  I grew my own wheat grass.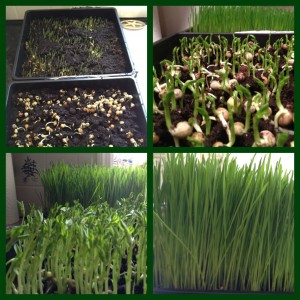 From seeds to grass in 7 days
I bought some seeds, some dirt and some trays. Planted the seeds, watered them, marveled at their growth and on the 7th day noted that the grass had reached the recommended height for harvesting and thus I was all out of excuses.  It was morning, my stomach was empty, I was in the privacy of my own home with only my family there to mock support my brave venture, and I had lovingly grown this grass and therefore felt pretty committed to seeing this through.  So I cut the grass, a handful at a time and fed it into the juicer.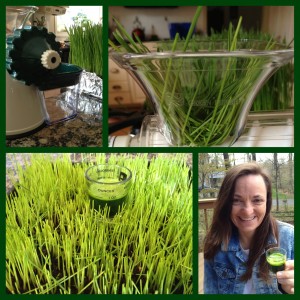 Imagine my surprise (and relief) upon harvesting and juicing that my
entire tray of grass yielded just over an ounce of juice.
The hand crank juicer was relatively easy to use, but I lost some juice because there was more dripping then I expected.  The worst part was that the smell as I cranked was pretty awful – my eyes were burning/watering and I was worried that I wasn't going to be able to see this through.  So when I ended up with only an ounce I was pretty happy, even though if you had told me ahead of time that each tray would only yield one shot I might have not been as enthusiastic a gardener.
After collecting my ounce of juice and properly photo documenting the moment, it was time to actually drink the juice.  Like the completely mature adult that I am, I made the scrunched up yuck face and downed the shot.  After months of anticipation with some dread mixed in, it was over in an instant, the taste wasn't nearly as bad as the smell, and it didn't have the aftertaste that my research had led me to fear (i.e. tasting "lawn" for an hour afterwards).  For the remainder of the morning, I was actually buoyed by a rush of energy.  The energy and 'aliveness'  could have been the miracle of wheat grass or a result of the adrenaline rush of accomplishing something that had been months in the making.  Or both.
I've already started two more trays of wheat grass.  I don't see a shot of wheat grass becoming a daily staple in my routine, but I can see it becoming a once or twice a week addition.  And, for now, I'm going to keep growing my own, mostly because I love having the daily excitement of watching it grow.  So few things in life change that quickly.  I think I might breathe through my mouth next time I juice it though

Do you ever get stuck waiting for the "right" time instead of just doing something? How do you "unstick" yourself? What do you think about wheat grass juice – love it, hate it, terrified of it?  Let me know!
Marney