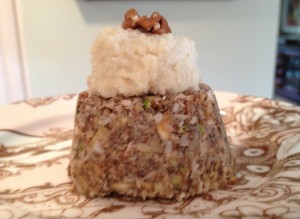 Raw Spiced-Rum Apple Cake with Coconut Cashew Cream
Recently I did a 6 day Sugar Detox Challenge hosted by the super cool MommyRunFast and then followed it with a 3 day Green Juice Cleanse. (I know, now you're trying to figure out how that insanely delicious looking cake has anything to do with a Detox/Juice anything.  I'll get there, I promise.)
The Sugar Detox was a very successful venture, while the Juice Cleanse was less so.  What really worked for me about the Sugar Detox Challenge was the support that was built in to doing something with a group of 100 plus people.  Every day people shared their highs and lows, their meals and their strategies via Facebook,Instagram or through the Google document that went with the challenge.  Feeling part of something bigger than just my meal plan for the week was more than enough to keep momentum going.  And the support of the group more than made up for any "what crazy thing are you doing now, Marney/mom?" looks I got from the locals.  I really enjoyed sharing my meals via picture every day, and the feedback I received from those pictures was one of the straws that broke me into blogging.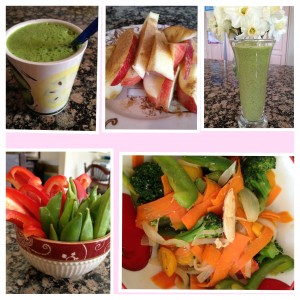 When it came time for the Green Juice Cleanse, I was ready, willing and able.  I started strong – the first day I got a bit cranky because I wanted to chew.  The second day I felt amazing.  The third day I crashed and burned.  I had originally entertained thoughts of doing 5 or even 7 days, but after 3 days I was dragging physically and emotionally.  I felt alone and isolated, and I was surrounded by people telling me to "just eat".  It was a great learning experience, having the contrast of going from lots of support to no support, and seeing the difference it made.  Had I been part of a group of people doing a Juice Cleanse, someone else would have probably had similar experiences to me, someone else would have had come upon a solution to my day 3 crash, someone else would have reminded me of the importance of taking it easy and not going 100 miles an hour when cleansing.  Left to my own devices, I didn't have enough cards stacked in my favor for a better outcome this time.
I am more grateful than ever for the multitude of people who have my back.  I am a strong woman, an independent woman, a smart woman AND I am much more likely to succeed when I am connected with like minded people.  That was a whole lot of learning crammed into week and a half, and since then I have savored several cups of coffee, a nice piece of steak, and many other gifts from the food world.  Which brings me back around to the cake. It was surprisingly simple to make and every bit as delicious as I hoped (although next time I would go without the spiced rum, it didn't add anything, and I think it took away from some of the flavors).
Raw Apple Cake:
1 cup dates (pitted) soaked in 1/2 cup spiced rum (next time I'm going to use water or apple juice) then pureed in food processor
2 large green apples, shredded (I left the skin on and used the food processor)
1 cup Mila
1 cup dried apple, finely minced
1 1/2 cups pecans, finely ground
1 1/2 cups shredded dried coconut (unsweetened)
1 tsp cinnamon
Mix all ingredients together in large bowl.  Press dough firmly into large muffin tins. Chill.
I thought the cake was perfect without the coconut cream, but I made it just to see what it was like.  It was my first attempt at making coconut butter, and I wasn't very successful.  I read that to make coconut butter, you simply blend dried coconut until the oil heats up and is released and the consistency becomes smooth.  I stopped blending when my Vitamix was hot, and although it was spreadable it was still pretty grainy/gritty.  I hated to blend anymore because all I could think of was how the heat was oxidizing the coconut.
Coconut Cashew Cream
1 cup raw cashews, soaked for a few hours and then drained
3 tablespoons coconut butter at room temperature
1/2 cup maple syrup
1/4 cup coconut water
Blend all ingredients until smooth.
If you make the cake, or a variation of it, be sure to let me know what you thought of it. Where has having a community of support been instrumental to your success? Have you ever made coconut butter? Care to share any secrets to a nice smooth butter?




by