My kitchen has become a makeshift greenhouse.  Which means that meals have become a bit sporadic.  Not because I can't work around the soil and seedlings, but because I am easily distracted by them.  It's amazing how quickly growth happens, it seems that every time I walk past, there is something new to see. On Sunday, I started two trays of wheat grass, one tray of sunflower shoots, one tray of pea shoots, and a mason jar of pea sprouts.  And already today the wheat grass and peas are looking like this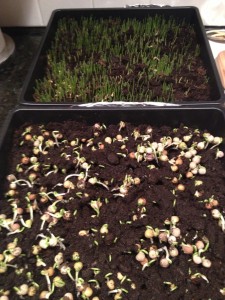 I think that I am only 4 – 5 days from harvest!  I'm excited for the peas to grow more and to start seeing those pea tendrils, there's something magical about them to me.  And just imagine now nutritious and life giving they are! Next time, I won't start everything at the same time so that I can space out my harvests.  Meanwhile, the mason jar of sprouts is coming along even quicker
While I was rinsing the sprouts this afternoon, several fell out and I popped them in my mouth.  They are already delicious – and I am looking forward to having a giant salad full of them!
In the meantime, I am enjoying watching the magic of the seed happen right in front of my eyes.  I started out only focused on having fresh wheat grass to juice and fresh sprouts and shoots to eat, which was reward enough for my efforts, I thought.  The added benefit of the nearly immediate gratification of having visible reward for my efforts is a nice bonus gift.  And the interruption of some of my regular kitchen routines, well it's nice to have takeout be a little flexible now and again.
Have you ever grown sprouts? What is your best sprouting tip? I'd love to hear from you. If the Leave a Reply box isn't below here, click on the heart icon at the top of the post to open up the Leave a Reply box.




by