After being intimidated by yoga for many years, I took a deep breath and jumped into it this past winter.  From my first awkward and challenging beginner class, I was sold.  There is a lot that I love about my yoga practice – the way that it rapidly transformed my relationship with my body, the extreme mental concentration it requires, the community of people I am honored to spend 75 minutes with several times a week and the amazing gift of being completely focused in the present moment.
An added benefit is the thoughtful wisdom that is integrated into my days as a result of the opening thoughts shared at the beginning of each class. One of the recent themes that Kessiah at Bright Heart Yoga introduced was centered on the idea "The chains of habit can be too light to be felt until they are too heavy to be broken."  Since hearing that, I have been on the lookout for the evidence of this in my own routines/habits, especially the routines and habits that are in line with where and who I want to be.
I have been creating a routine of drinking warmed water with lemon and cayenne first thing in the morning.  It's been nearly a month and I had been doing it every day.  Then I missed a day, a single day.   Before I even noticed, 5 days had gone by and I hadn't had it once.  Clearly, the chains of that habit were so light that I didn't notice their absence one bit.
It strikes me that new habits and routines require extra protection and support while those chains get stronger.  Much like the way I would protect a young seedling by placing it in a favorable location, nurturing/feeding it and protecting it from being stepped on, nibbled on by some wildlife, or scorched by the sun.  Helping the chains of my habits grow strong requires that same vigilance: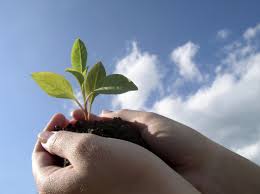 Placing them in a favorable location – keeping them in my line of sight where I won't easily lose track of them.  One of my favorite ways to support myself in a new routine or habit is to track it.  I use a simple app on my phone and check things off as I do them.  This can also be as simple as leaving the new supplement or food out on the counter, leaving my sneakers by the front door, or the book on my bedside table.
Nurturing/feeding the habit – creating supportive thoughts and ideas around the habit that keep me on track.  What works for me is to create some joy or excitement about the new habit.   For starters, I like to have a clear idea of the short and long term results that I am intending from the new habit – the why.  And the why has to be better than "I should drink more water" or "it's good for me".  Not a lot of spice in those thoughts.  So I like to dig deeper – to things like "more energy" or "better skin" or "radically improve my relationships" (you get the idea).  And then, because I like carrots WAY better than sticks – I like to build in added incentives or little treats. When I started increasing my daily water intake, I treated myself to a glass water bottle which made those initial days a lot more fun because I was loving that water bottle and bringing it with me everywhere I went. 
Protecting the habit – ensuring that the young habit is safe from sabotage.  Many of the new habits that I create are replacing other habits that are no longer in line with where I am headed. So it is important for me to be sure that access to the old habit isn't going to get in the way of the new habit and squash my efforts.  When I replaced morning caffeine with warm lemon cayenne water, I tossed the coffee that was in house put the coffee pot away in the back of a cabinet.  I also protected my new habit from the nibbles of others by only sharing the routine change with people who I knew would be supportive because when I hear "what's one cup of coffee going to hurt?" too many times I tend to lose focus on my why and become derailed.  And finally, scorch protection for me means that I don't embark on a massive overhaul but make fine tuning changes on a regular basis.  I am likely to burnout and give up on all of my new plans if I embark on a dozen new habits at once.  What I have found works for me is to be continually adding one or two more minor shift into my days, gradually correcting my course and continually bringing myself into line with where I am headed.
My seedling habits right now are my yoga practice (3x a week), blogging (2x a week), lemon/cayenne water (every day) and blocking out dedicated work time (as opposed to fitting working in between folding laundry, walking the dog, driving to baseball practice and starting dinner). What habits/routines are you currently working on adding into your life? What helps you forge a strong chain of habit?
Marney




by