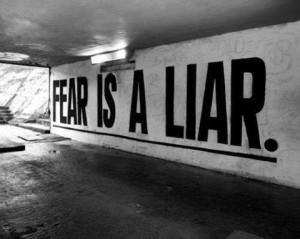 Funny thing how when I take a firm stand on reaching for some big outrageous goals and a deeper richer life, all kinds of stuff comes out of the woodwork to drag me back.  I don't know about you, but when that happens to me I can sometimes consider it as a 'sign' that I'm going the wrong way and decide to curl up in bed and hide from the world to make other, less bold, plans for myself.
Thing is, I know in my gut that I'm making the wrong call and listening to the wrong voices when that happens. But it doesn't make it any easier to push ahead.  Happily for me I am getting better and better at reaching out to my support network when I falter.  Not that long ago, I used to only falter in secret, behind closed doors, WAY harder to pick myself up when I'm all alone and in the dark.  Not that bringing my struggles to the light is all that easy either, but the bright side of that is that I have the opportunity to continue on with the course I've set for myself, rather than turn around and go back the way I came.
Over the past couple days there's been a lot of noise in my head.  Lot's of chatter that started with real deflaters like "who do you think you are to…" , "you can't even…", "there's no way to…", "look at the mess you make…", "you don't have…" and on and on and on.  It felt like the hits were coming too fast to catch hold of, disprove or reason with – it felt like I was sinking.  Fear was trying to run the show.
That's when I remembered what a dear friend said to me recently when we discussed these sort of internal saboteurs.  She said to tell them to "get behind me".  I've heard these words spoken in a commanding voice during a sermon and when I heard them from my friend, they came through in that same strong voice.  What feels really right about simply telling all of that nonsense to "get behind me" is that it frees me from having an internal debate with myself when those thoughts come up.  I'm not pretending that all of that junk isn't there – it's there, but it's not getting in my way, I'm not walking around it, it is getting behind me and I am moving on.
I am not a biblical scholar but part of the strength of "get behind me" for me comes from it's biblical context.  Jesus tells Satan to "get thee behind me". (Luke 4:5-8).  And right now, when I'm feeling like I have some big work to do, thinking of those saboteur voices as the devil/Satan trying to hold me back and slow me down infuses me with much more vim and vigor to plow ahead.
So get behind me – and put it all behind you – and do something really amazing!
Are you finding roadblocks in the way of your January dreams and goals? How are you overcoming them?




by