It doesn't take much to get me excited.  I remind myself most of a puppy, a slightly overeager, joyful, curious, really loving puppy.  And when I discover something new that I love, I just can't wait to share it with everyone.  This blog is in no small part my outlet for sparing my family and close friends from my nonstop effusive rants doing just that.
While doing the sugar detox last week, I had a follow up doctors appointment to review the results of some blood work I had done last month.  As it turns out, I have quite a few things going on, among which Lyme disease is back in force with some Bartonella, Babesiosis, and walking pneumonia thrown in.  All of which has triggered some high Epstein Barr results. It is nice to have an explanation for my fatigue and is reassuring that the doctor had a treatment protocol that combines traditional, homeopathic and herbal medicines at the ready.   To support myself during treatment I will be continuing with a no sugar, no dairy, no grain lifestyle.  Thankfully I was feeling so great from my week long sugar detox that that felt like a super easy decision.
Now, none of this news is very exciting, however what IS exciting is figuring out how I am going to have fun with  this new regimen.  For instance, I'd like to be able to treat myself with a cup of coffee once in a while, and I enjoy my coffee with skim milk.  One friend suggested that I adjust to having my occasional cup of coffee black, which I think I will try.  However, I wanted options, so I thought I would try my hand at making almond milk.  The almond milk that I have seen on the shelves didn't taste that great to me, and had way more ingredients then seemed necessary.
I had a recipe that a friend had recently emailed me, all of the ingredients in the house, and some time between things on Saturday to give it a whirl.  What I didn't have was a nut milk bag, but once I had decided I wanted to make almond milk, I was determined.  I couldn't think of a local friend that might have a nut milk bag just hanging around to be borrowed (Note to local friends – I have ordered one, so I'm the person you can call from now on if you're in this predicament).  I did have some cheesecloth, so I decided that I would make it work.
The basic recipe is super simple and super delicious, plus the whole experience was very satisfying.
Insanely Delicious Almond Milk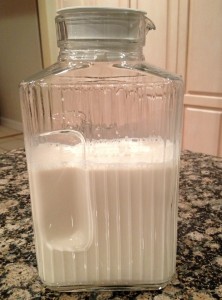 2 cups almonds (soaked for 3-5 hours)
6 cups water
3 dates (pit removed)
dash of cinnamon
1 drop of almond extract
Put all of the above in your Vitamix and blend on high for 2 minutes.  Allow to sit for 15 minutes. Strain.
For those of you who, like me, are completely new to this rodeo, here are some additional bits of information from my experience this weekend.  This recipe completely fills a Vitamix, so if you're using a different high powered blender, consider halving the recipe or making it in two batches.  I strained small amounts at a time.  The blended mixture is a thick liquid, so to extract most of the liquid through the cheesecloth I squeezed and twisted the cheesecloth.  Twisting the cheesecloth was a mistake, as it tore and much like a pastry bag began to extrude the almond pulp/paste.  The squeezing was the most fun part, because the milk smelled delicious and it was amazing how much milk there was even when the pulp looked dry.  Plan ahead and have something you want to eat your almond milk with ready to go as soon as you're done, as well as something to store your almond milk in the refrigerator.
I had so much fun making the almond milk that the fact that it was absolutely delicious was an added bonus.  I decided to have dessert for dinner and made myself a huge bowl with what I had on hand, which was chopped mango and strawberry, walnuts, soaked Mila, bee pollen and cinnamon all drenched in almond milk.  It was completely insanely delicious.  I wasn't patient enough to style the bowl before I took the picture, so this messy picture is a sign of a delicious meal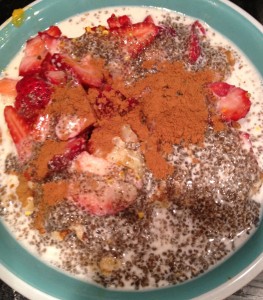 Ever since, when people ask what's new I have been replying with "I made almond milk, it is super crazy delicious." And sometimes even when people simply make eye contact say hi I have the same response, because I'm excitable.  And it's way more interesting than talking about the latest blood test results.
Are you going to make yourself some almond milk?  What has you excited right now that you want to share with everyone?




by