Zucchini "Fettucini" with Pesto
I don't know about you, but I spend a lot of time "faking it until I can make it."  Lately  I have noticed that I've been doing some faking with my "get up and go".  I find myself waking up and having thoughts about just going back to sleep (or getting the boys off to school then diving back into bed for an early morning nap, which I've never done I sometimes do).  And on the mornings when I entertain that thought process as I make breakfast and empty the dishwasher and feed the dog and pack lunches, I feel pretty miserable and all of those tasks feel heavy and the rest of my day tends to follow suit.  On the mornings that I banish those thoughts from my head when (or before) my feet hit the floor even though especially because I don't feel like it and put a smile on my face, everything is a little different. I enjoy my morning small talk with my boys as I take care of the morning routine, which feels like an accomplishment as opposed to drudgery.  The thoughts in my head, as opposed to being 'sleep, sleep, sleep' are focused on the present moment, the still warm glasses I am placing in the cabinet, the smell of eggs (not my favorite) as I peel a hard boiled one for my son, the sound of rain on the kitchen window and the groggy blank stare of my son as I ask him about what he has on his schedule for the day.  If I stopped to give it some thought (or if magically I found out the the day was cancelled and the whole world had the day off) I would notice probably that I'm still a bit sleepy and that I'd love to be back in my cozy bed.  But if I don't entertain those thoughts, if I simply replace them with thoughts of the present moment, somewhere around the time the boys have headed off to school I find that I am ready for my day as well and the bed is no longer appealing.  What's more, it can actually get better than that.  On the days that I choose to "go big" and replace those sleepy thoughts with some really juicy thoughts about how grateful I am to have these boys and this dog and how excited I am to see what the day has to offer me – the process is accelerated and I've "made it" by the time I walk into the kitchen.
Faking it is like placing an order at a restaurant.  I describe what I want by my thoughts and then it is served to me as my mood/outlook/approach to the moment.  If I want to feel groggy and unmotivated, then I think groggy and unmotivated thoughts.  But if I want to feel motivated and alive and in love with my life (which is my version of heaven) then I think thoughts that match those feelings.  Not only do I feel better – but my feelings shape my actions and my day is more in line with where I want to be.  I know that I am pretty good at faking it because sometimes a groggy child will complain to me that I just don't understand, they are really sleepy this morning and can't possibly move any quicker.  I do completely understand, but I'm in the middle of faking it until I can't understand because I feel so alive and ready for my day.
The first couple days of this sugar detox definitely were faking it kind of days.  When I focused on what I 'wanted but couldn't have' I was not a happy woman.  I might have been really justified in not being happy – lot's of people would agree with me and commiserate with me, however I didn't want to feel like that, even with 'good' reason.  So I practiced faking it – and for me that meant focusing on the food that I "got to eat".
This recipe definitely tops the list in the "got to eat" category because it was a fun one to make,  was easy to make for a quick lunch, and it really did fake my mind into feeling like a hearty 'pasta' dish.
Zucchini "Fettucini" with Pesto – serves 4 for lunch or as a side dish
Ingredients:
1 cup pine nuts, pre-soaked and then drained
2 cups fresh basil leaves
3 Tbsp nutritional yeast
3 cloves of garlic
1/4 cup of olive oil
4 medium zucchini, peeled (if organic, you can leave the skin on)
1 pint cherry tomatoes, quartered
Combine pine nuts through olive oil in a blender until well blended and smooth.  Add additional olive oil if necessary to achieve desired consistency.
And next comes the magic "faking it" part – cut your zucchini into fettucini.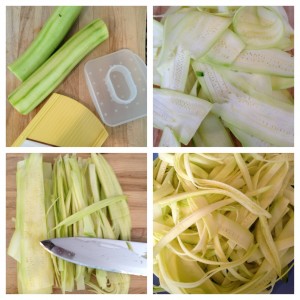 Using a mandolin or cheese slicer slice the zucchini lengthwise into thin strips.  After the zucchini has been sliced, stack the strips on top of each other and then cut the strips lengthwise into fettucini sized strips of zucchini.  Plate the zucchini strips and top with the cherry tomatoes and then pesto.  This looks so much like pasta when plated with pesto and tomatoes, even slightly chilled this feels less like a salad and more like a side dish.
Do you find that "faking it" helps you get where you want to go? What's your favorite "fake" food?




by