It amazes me how quickly and easily I can fall out of step with who, what and where I am. The distractions in this life are as enticing as they are myriad.  But what amazes me even more is how easy it is to step right back into line.
I'm pretty sure that there were a few days last week that a vegetable did not find its way onto my plate.  And I am saying pretty sure because I was eating unconsciously, living unconsciously – it was a bit of a blur.  I had a consulting project that I was finishing up and my oldest turning 13 and I lost track of myself in the midst of that and a whole lot more nonsense.
No big deal.  I'm doing something new today, I'm just jumping back in.  Happily for me I am doing it with a bunch of other awesome people in a week long Sugar Detox hosted here .  For me doing anything in community is easier than on my own.  I'm getting back on track, and perhaps being a bit more hard core than I plan to be on a regular basis. A great place to start.
Yesterday I did a bit of meal planning in my head and then shopped.  Today I woke up ready to go and excited to be back in line with what feels right for me.  I'm excited about some of the meal ideas that I have for the week.  I couldn't wait for this one and made it for lunch today.  I loved the cool crispness of the vegetables combined with the smoothness of the avocado and the hit of sweet spice from the ginger and the dressing.
Raw Spicy & Crunchy Ginger Lettuce Wraps – serves lunch for two
3 dates – pit removed
1/4 cup almond butter
2 cloves garlic
1/2 lemon, juiced
1 teaspoon water
3 peppers – I used red, yellow and green
1 ripe avocado
1 inch piece fresh ginger, peeled
4-6 large romaine or Boston lettuce leaves
Blend dates through water in a food processor or blender until smooth. If it's too thick, add more water, a 1/4 teaspoon at a time until its a consistency you like.
Wash and chop peppers.  Chop avocado and mix into peppers. Grate ginger onto pepper and avocado mixture and mix together.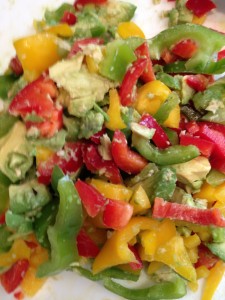 Spread dressing on lettuce leaves and spoon pepper mixture over top.  * You'll have extra dressing, save it for a dip or as a spread on something else

I'm glad to have my eating on track.  It didn't require a whole lot of teeth gnashing or drama, I simply remembered what works for me and committed to it.  And the same goes for being more conscious in the rest of my life.  Losing track of myself is disorientating, jumping back into myself requires some effort but allows me to feel solid.  And take action.  It's going to be a full and amazing week.
What are you taking action towards this week? Do you find yourself getting off track and pulling yourself back on track often? Any tips?




by