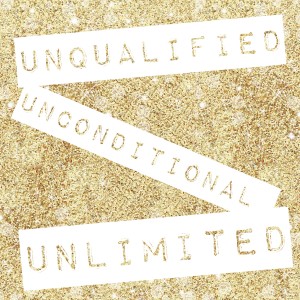 Words are powerful.
I know that to be true. And then sometimes, suddenly I am reminded all over again.
This week a long time friend commented on something I had posted on Facebook.  And her words stopped me in my tracks, because they "felt" so good.  "You are so good at dreaming". A pat on the back is always nice, but what struck me most was the clarity of language.
Unqualified: Without reservation or limitation.
Here's the deal: I spend a lot of time qualifying my language when I talk to myself and to others.  If I'm telling myself positive things I'm more likely to say "I am kind of good at" or "I sometimes am good at" or "I can be good at".  And the difference in how those wishy washy statements feel compared to "you are good at" is huge.  Since I'm consciously and unconsciously talking to myself throughout the day, building some better language habits could really come in handy.  Unqualified language, that's my goal.
Unconditional: Not limited in anyway, complete and absolute.
Two other times that specific language had a lasting impression on me come immediately to mind.  The first was a college acceptance letter (way back in 1986) that stated that they were pleased to offer me  "unconditional acceptance".  Unconditional acceptance.  Now that's something that was music to my angst filled teen self and is still beautiful to hear today.  I desire unconditional acceptance in this world.  I desire to FEEL unconditionally accepted. I want to love unconditionally and give unconditionally and be unconditional in my relationships.  I want to be unconditional in my resolve to go after my goals and dreams.
Unlimited: Boundless, infinite, vast.
Another time a single word got my attention was about 10 years ago when I was getting estimates for a new hot water heater.  One of the estimates was for a tankless system and came with a brochure offering an "unlimited supply of hot water".  The other bids didn't stand a chance.  (Yes, I'm an impressionable consumer, more on that here.) An unlimited supply.  Of hot water good.  For me.  Unlimited.  Limitless. That speaks directly to my soul.  Unlimited good, unlimited love, unlimited abundance, unlimited forgiveness, unlimited energy, unlimited ability – yes and yes please.
Unqualified, unconditional, unlimited – these words are big and broad and empowering.  Since I'm playing big this year, and reaching.  I want to be clear that I'm not "kind of" reaching or "sometimes" reaching.  I am committed to unqualified, unconditional, unlimited reaching.  
I'm going to be watching my internal and external dialogue – catching myself slipping into the old habit of the disempowering, qualifying language and correcting myself.  Because unqualified, unconditional, unlimited good is what I want for me and for everyone.
What words really speak to you?




by